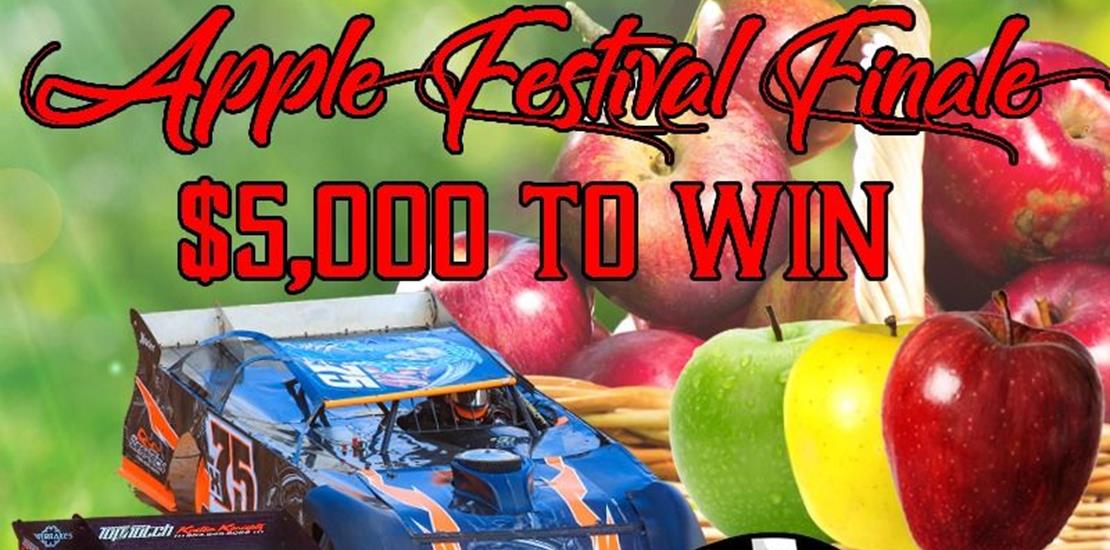 10/14/2023 -
Saturday October 21st, Sugar Creek Raceway will host the Southern All Star Super Late Model Series for our season finale. This will be The Creek's fir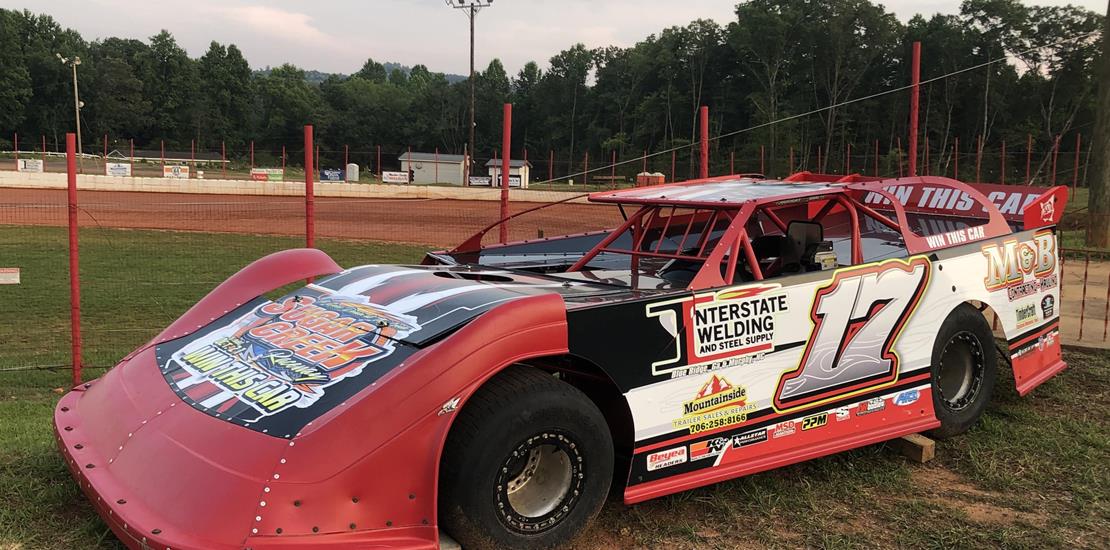 6/11/2023 -
You can win a 2021 Mastersbuilt Late Model Roller for only $50.00! Tickets are only $50.00 each or 3 for $100.00! This could be a once in a lifetime c
-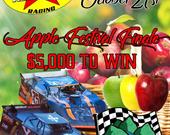 10/14/2023
Saturday October 21st, Sugar Creek Raceway will host the Southern All Star Super Late Model Series for our season finale. This will be The Creek's first sanctioned Super Late Model event this year. The $5000.00 to win event will also award a lucky winner a 2021 MastersBilt...
more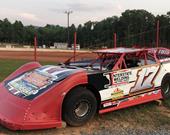 6/11/2023
You can win a 2021 Mastersbuilt Late Model Roller for only $50.00! Tickets are only $50.00 each or 3 for $100.00! This could be a once in a lifetime chance for you to own a late model racecar! Tickets on sale at Sugar Creek Raceway on race days or call 321-863-2479. Online...
more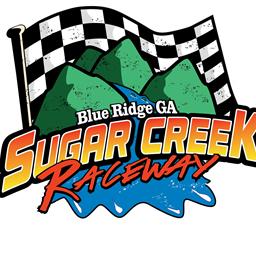 9/23/2023 - Sugar Creek Raceway
Blue Ridge, GA
RAINOUT RESCHEDULED! Open Wheel Mods and Street Stocks Championship night! $800.00 to win!
THE RAIN OUT IS RESCHEDULED! Let's try this again for this weekend Sept 23rd. $1000.00 to win for Limited Late Models. $800.00 to win for the Interstate Welding 602 Late Models, Open Wheel Modifieds and Street Stocks!. Regular show for Front Wheel Drive, Pony and Strictly Stock/Crown Vics.
Don't forget the first 80 Fannin County students 11 and up will receive $5.00 off Courtesy of Green's Grading and Paving. As always 10 and under are free!
Street Stocks

8 entries

Open Wheel Modifieds

11 entries

Limited Late Models

8 entries

602 Late Models

15 entries

Pony

9 entries

Front Wheel Drive

7 entries

Strictly Stock

5 entries
Full Event Information on MyRacePass
Street Stocks
Finish
Start
#
Competitor
Hometown
+/-
1
2
4
Roger Beaver Murphy, NC
Murphy, NC
1
2
8
21
Troy Lynch Brasstown, NC
Brasstown, NC
6
3
4
81
Dylan Hannah Clyde, NC
Clyde, NC
1
4
7
93
Aaron Ramsey Murphy, NC
Murphy, NC
3
5
6
98
Daniel Parker Cleveland, TN
Cleveland, TN
1
6
5
24
Johnny Hannah Clyde, NC
Clyde, NC
-1
7
1
25
Jacob Hamby Murphy, NC
Murphy, NC
-6
8
3
03
Matt Whitener Canton, NC
Canton, NC
-5
Finish
Start
#
Competitor
Hometown
Time
1
4
25
Jacob Hamby Murphy, NC
Murphy, NC
2
3
4
Roger Beaver Murphy, NC
Murphy, NC
3
7
03
Matt Whitener Canton, NC
Canton, NC
4
5
81
Dylan Hannah Clyde, NC
Clyde, NC
5
2
24
Johnny Hannah Clyde, NC
Clyde, NC
6
8
98
Daniel Parker Cleveland, TN
Cleveland, TN
7
6
93
Aaron Ramsey Murphy, NC
Murphy, NC
8
1
21
Troy Lynch Brasstown, NC
Brasstown, NC
All transfer
Open Wheel Modifieds
Finish
Start
#
Competitor
Hometown
+/-
1
1
7
Seth Wimpey Blue Ridge, GA
Blue Ridge, GA
-
2
2
22
Matt Sandefur Mineral Bluff, GA
Mineral Bluff, GA
-
3
5
17
Petey Cochran Ballground, GA
Ballground, GA
2
4
3
7A
Bobby Turner Canton, GA
Canton, GA
-1
5
6
774
Lance Postell Rockmart, GA
Rockmart, GA
1
6
11
119
Timmy Millwood Canton, GA
Canton, GA
5
7
8
77
Kenneth Horton Mableton, GA
Mableton, GA
1
8
9
16
Ashley Hogan Snellville, GA
Snellville, GA
1
9
4
51C
Johnny Cloer Chatsworth, GA
Chatsworth, GA
-5
10
7
39
Joseph Gill Kennessaw, GA
Kennessaw, GA
-3
11
10
1A
Tony Ray Canton, GA
Canton, GA
-1
Finish
Start
#
Competitor
Hometown
Time
1
7
7
Seth Wimpey Blue Ridge, GA
Blue Ridge, GA
2
4
22
Matt Sandefur Mineral Bluff, GA
Mineral Bluff, GA
3
5
7A
Bobby Turner Canton, GA
Canton, GA
4
10
51C
Johnny Cloer Chatsworth, GA
Chatsworth, GA
5
3
17
Petey Cochran Ballground, GA
Ballground, GA
6
9
774
Lance Postell Rockmart, GA
Rockmart, GA
7
6
39
Joseph Gill Kennessaw, GA
Kennessaw, GA
8
1
77
Kenneth Horton Mableton, GA
Mableton, GA
9
2
16
Ashley Hogan Snellville, GA
Snellville, GA
10
8
1A
Tony Ray Canton, GA
Canton, GA
11
11
119
Timmy Millwood Canton, GA
Canton, GA
All transfer
Limited Late Models
Finish
Start
#
Competitor
Hometown
Time
1
2
22
Tucker Anderson Blairsville, GA
Blairsville, GA
2
1
4
Danny Ledford Warne, NC
Warne, NC
3
5
81
John Howard Clayton, GA
Clayton, GA
4
8
12
Drew Deaver McCaysville, GA
McCaysville, GA
5
3
1
Junior Whitener Blue Ridge, GA
Blue Ridge, GA
6
6
30
Daven Dilbeck McCaysville, GA
McCaysville, GA
7
7
51
Randy Dillard
8
4
R12
Rodney Weeks Blue Ridge, GA
Blue Ridge, GA
602 Late Models
Finish
Start
#
Competitor
Hometown
+/-
1
1
117
Dylan Beaver Murphy, NC
Murphy, NC
-
2
4
17
Brad Thomas Morganton, GA
Morganton, GA
2
3
2
100
Cooper Twiggs Murphy, NC
Murphy, NC
-1
4
3
4
Jacob Parris Epworth, GA
Epworth, GA
-1
5
5
44
Bobby Elkins Murphy, NC
Murphy, NC
-
6
7
42
Johnny Gulizia Murphy, NC
Murphy, NC
1
7
10
56
Colton Berrong Murphy, NC
Murphy, NC
3
8
6
12
Bryson Robinson Cleveland, GA
Cleveland, GA
-2
9
9
1H
Daniel Helton Morganton, GA
Morganton, GA
-
10
8
73
CB McKinnon Murphy, NC
Murphy, NC
-2
11
13
43
Tim Ford Elijay, GA
Elijay, GA
2
12
12
G3
Michael Green Blue Ridge, GA
Blue Ridge, GA
-
13
14
88
Bryce Moody Hayesville, NC
Hayesville, NC
1
14
15
556
Malachi Yarger Spring City, TN
Spring City, TN
1
DNS
11
24
Seth Wimpey Blue Ridge, GA
Blue Ridge, GA
-
Finish
Start
#
Competitor
Hometown
Time
1
6
117
Dylan Beaver Murphy, NC
Murphy, NC
2
12
100
Cooper Twiggs Murphy, NC
Murphy, NC
3
8
4
Jacob Parris Epworth, GA
Epworth, GA
4
3
17
Brad Thomas Morganton, GA
Morganton, GA
5
9
44
Bobby Elkins Murphy, NC
Murphy, NC
6
10
12
Bryson Robinson Cleveland, GA
Cleveland, GA
7
5
42
Johnny Gulizia Murphy, NC
Murphy, NC
8
4
73
CB McKinnon Murphy, NC
Murphy, NC
9
11
1H
Daniel Helton Morganton, GA
Morganton, GA
10
14
56
Colton Berrong Murphy, NC
Murphy, NC
11
7
24
Seth Wimpey Blue Ridge, GA
Blue Ridge, GA
12
1
G3
Michael Green Blue Ridge, GA
Blue Ridge, GA
13
15
43
Tim Ford Elijay, GA
Elijay, GA
14
13
88
Bryce Moody Hayesville, NC
Hayesville, NC
15
2
556
Malachi Yarger Spring City, TN
Spring City, TN
All transfer
Finish
Start
#
Competitor
Hometown
Time
1
6
117
Dylan Beaver Murphy, NC
Murphy, NC
2
12
100
Cooper Twiggs Murphy, NC
Murphy, NC
3
8
4
Jacob Parris Epworth, GA
Epworth, GA
4
3
17
Brad Thomas Morganton, GA
Morganton, GA
5
9
44
Bobby Elkins Murphy, NC
Murphy, NC
6
10
12
Bryson Robinson Cleveland, GA
Cleveland, GA
7
5
42
Johnny Gulizia Murphy, NC
Murphy, NC
8
4
73
CB McKinnon Murphy, NC
Murphy, NC
9
11
1H
Daniel Helton Morganton, GA
Morganton, GA
10
14
56
Colton Berrong Murphy, NC
Murphy, NC
11
7
24
Seth Wimpey Blue Ridge, GA
Blue Ridge, GA
12
1
G3
Michael Green Blue Ridge, GA
Blue Ridge, GA
13
15
43
Tim Ford Elijay, GA
Elijay, GA
14
13
88
Bryce Moody Hayesville, NC
Hayesville, NC
15
2
556
Malachi Yarger Spring City, TN
Spring City, TN
Pony
Finish
Start
#
Competitor
Hometown
+/-
1
1
28
Richard Davis CALHOUN, GA
CALHOUN, GA
-
2
5
4B
Danny Burnette Chattanooga, TN
Chattanooga, TN
3
3
2
4
Terry Calhoun Toccoa, GA
Toccoa, GA
-1
4
7
9
Jason Lowe Columbus City, IA
Columbus City, IA
3
5
6
2
Colby McCulloch Hayesville, NC
Hayesville, NC
1
6
9
20P
Mason Palmer Cohutta, GA
Cohutta, GA
3
7
3
J55
Justin Starling Pelzer, SC
Pelzer, SC
-4
DNS
8
G3
Dakota Green Blue Ridge, GA
Blue Ridge, GA
-
DNS
4
11
Landen Payne Demorest, GA
Demorest, GA
-
Finish
Start
#
Competitor
Hometown
Time
1
1
28
Richard Davis CALHOUN, GA
CALHOUN, GA
2
8
4
Terry Calhoun Toccoa, GA
Toccoa, GA
3
9
J55
Justin Starling Pelzer, SC
Pelzer, SC
4
3
11
Landen Payne Demorest, GA
Demorest, GA
5
2
4B
Danny Burnette Chattanooga, TN
Chattanooga, TN
6
5
2
Colby McCulloch Hayesville, NC
Hayesville, NC
7
6
9
Jason Lowe Columbus City, IA
Columbus City, IA
8
4
G3
Dakota Green Blue Ridge, GA
Blue Ridge, GA
9
7
20P
Mason Palmer Cohutta, GA
Cohutta, GA
All transfer
Front Wheel Drive
Finish
Start
#
Competitor
Hometown
+/-
1
2
84
Donnie Lowe Cleveland, TN
Cleveland, TN
1
2
1
68
Neal Drummond Taylorsville, GA
Taylorsville, GA
-1
3
4
1
Timothy Wooten Mineral Bluff, GA
Mineral Bluff, GA
1
4
3
88G
Joseph Guider Loudon, TN
Loudon, TN
-1
5
5
17
James Cook Sugar Valley, GA
Sugar Valley, GA
-
6
6
106
Kyle Gilbert Jasper, GA
Jasper, GA
-
DNS
7
88
Bubba Choate Midway, TN
Midway, TN
-
Finish
Start
#
Competitor
Hometown
Time
1
7
68
Neal Drummond Taylorsville, GA
Taylorsville, GA
2
4
84
Donnie Lowe Cleveland, TN
Cleveland, TN
3
5
88G
Joseph Guider Loudon, TN
Loudon, TN
4
1
1
Timothy Wooten Mineral Bluff, GA
Mineral Bluff, GA
5
6
17
James Cook Sugar Valley, GA
Sugar Valley, GA
6
2
106
Kyle Gilbert Jasper, GA
Jasper, GA
7
3
88
Bubba Choate Midway, TN
Midway, TN
All transfer
Strictly Stock
Finish
Start
#
Competitor
Hometown
+/-
1
1
10
D.J. Ingram Blairsville, GA
Blairsville, GA
-
2
2
18
Steve Eddington etowah, TN
etowah, TN
-
3
5
13X
Keith Ross Corning, CA
Corning, CA
2
4
3
7
Jesse Ingram Blue Ridge, GA
Blue Ridge, GA
-1
5
4
7G
Doug Guider Sweetwater, TN
Sweetwater, TN
-1
Finish
Start
#
Competitor
Hometown
Time
1
1
10
D.J. Ingram Blairsville, GA
Blairsville, GA
2
3
18
Steve Eddington etowah, TN
etowah, TN
3
2
7
Jesse Ingram Blue Ridge, GA
Blue Ridge, GA
4
5
7G
Doug Guider Sweetwater, TN
Sweetwater, TN
5
4
13X
Keith Ross Corning, CA
Corning, CA
All transfer