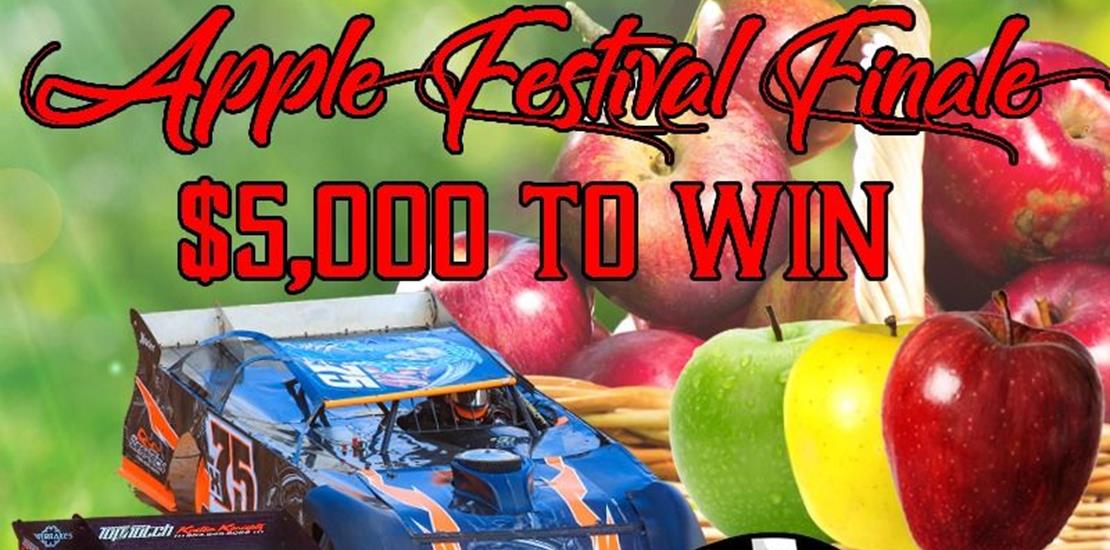 10/14/2023 -
Saturday October 21st, Sugar Creek Raceway will host the Southern All Star Super Late Model Series for our season finale. This will be The Creek's fir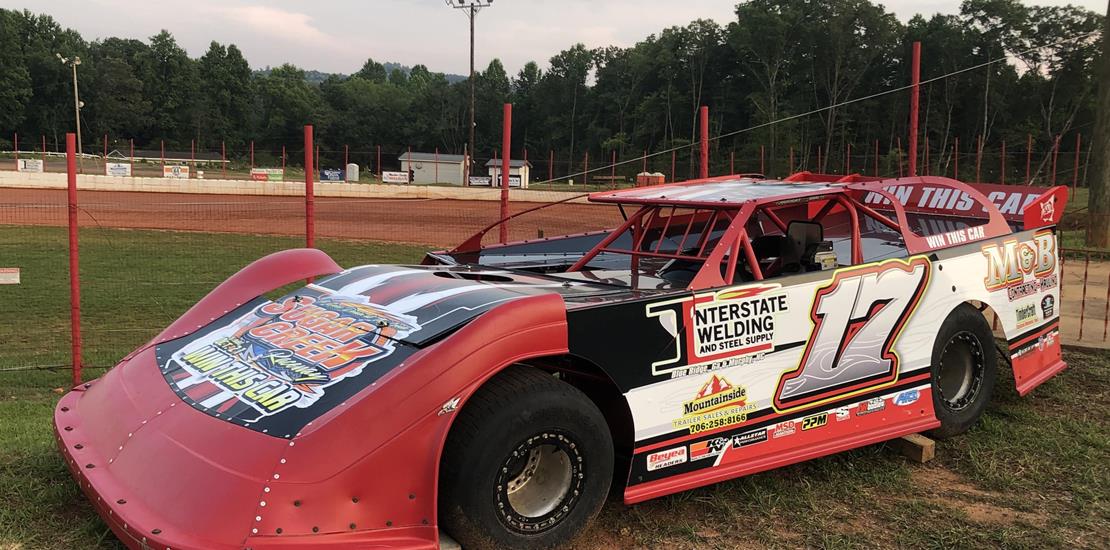 6/11/2023 -
You can win a 2021 Mastersbuilt Late Model Roller for only $50.00! Tickets are only $50.00 each or 3 for $100.00! This could be a once in a lifetime c
-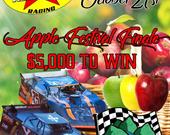 10/14/2023
Saturday October 21st, Sugar Creek Raceway will host the Southern All Star Super Late Model Series for our season finale. This will be The Creek's first sanctioned Super Late Model event this year. The $5000.00 to win event will also award a lucky winner a 2021 MastersBilt...
more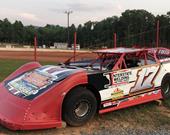 6/11/2023
You can win a 2021 Mastersbuilt Late Model Roller for only $50.00! Tickets are only $50.00 each or 3 for $100.00! This could be a once in a lifetime chance for you to own a late model racecar! Tickets on sale at Sugar Creek Raceway on race days or call 321-863-2479. Online...
more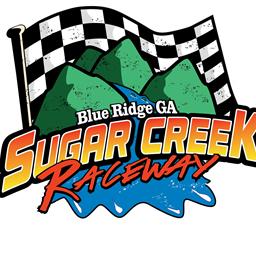 8/5/2023 - Sugar Creek Raceway
Blue Ridge, GA
Limited/604 Crate Late Model Championship Night Possible $2000.00 To Win!
As we continue to pray for Jason Deal and his family, we have had an anonymous 500.00 donation for a quick six qualifying race for this weekends $1500.00 Limited/604 late model race. This weekends "Dash for Deal" brings a total possible $2000.00 to win! The highest finishing 604 Late model will also get an additional $200.00 bonus!
Please keep Jason in your prayers. He is currently in ICU in stable condition at Erlanger with more tests scheduled for tomorrow.
Also scheduled for Saturdays races are:
Interstate Welding 602 Late Models
Open Wheel Modified
Street Stock
Front Wheel Drive
Pony
And the fast growing Strictly Stock Division
Grandstands
Adults $15.00
Children 10 and under are free
Gates open @ 5:00PM
Pits
Adults $35.00
Children 10 and under are free
Gates open @ 4:00 PM
Street Stocks

6 entries

Open Wheel Modifieds

4 entries

Limited Late Models

17 entries

602 Late Models

23 entries

Pony

5 entries

Front Wheel Drive

8 entries

Strictly Stock

3 entries
Full Event Information on MyRacePass
Street Stocks
Finish
Start
#
Competitor
Hometown
+/-
1
1
4
Roger Beaver Murphy, NC
Murphy, NC
-
2
2
14
Charles Devine Murphy, NC
Murphy, NC
-
3
6
81
Dylan Hannah Clyde, NC
Clyde, NC
3
4
4
J69
Jim Weller Murphy, NC
Murphy, NC
-
5
3
24
Johnny Hannah Clyde, NC
Clyde, NC
-2
6
5
36
Ronald Poole Canton, GA
Canton, GA
-1
Finish
Start
#
Competitor
Hometown
Time
1
1
4
Roger Beaver Murphy, NC
Murphy, NC
2
4
14
Charles Devine Murphy, NC
Murphy, NC
3
2
24
Johnny Hannah Clyde, NC
Clyde, NC
4
6
J69
Jim Weller Murphy, NC
Murphy, NC
5
5
36
Ronald Poole Canton, GA
Canton, GA
6
3
81
Dylan Hannah Clyde, NC
Clyde, NC
All transfer
Limited Late Models
Finish
Start
#
Competitor
Hometown
+/-
1
2
32M
Jason Manley Loudon, TN
Loudon, TN
1
2
4
4
Danny Ledford Warne, NC
Warne, NC
2
3
3
12
Drew Deaver McCaysville, GA
McCaysville, GA
-
4
8
22
Tucker Anderson Blairsville, GA
Blairsville, GA
4
5
7
41
Parris Simmons Baldwin, GA
Baldwin, GA
2
6
10
88
Ricky Smith Hiwassee, GA
Hiwassee, GA
4
7
6
30
Daven Dilbeck McCaysville, GA
McCaysville, GA
-1
8
9
42
Johnny Gulizia Murphy, NC
Murphy, NC
1
9
12
72
Tyler Norwood Athens, TN
Athens, TN
3
10
13
17G
Tyler Garrett Canton, GA
Canton, GA
3
11
16
G3
Michael Green Blue Ridge, GA
Blue Ridge, GA
5
12
5
03
Dante Curtis Murphy, NC
Murphy, NC
-7
13
1
68
Kip Cochran Franklin, NC
Franklin, NC
-12
14
11
757
Kelby Norwood Athens, TN
Athens, TN
-3
15
15
32
Dustin Chastain Murphy, NC
Murphy, NC
-
16
17
56
Colton Berrong Murphy, NC
Murphy, NC
1
DNS
14
R12
Rodney Weeks Blue Ridge, GA
Blue Ridge, GA
-
Finish
Start
#
Competitor
Hometown
+/-
1
7
32M
Jason Manley Loudon, TN
Loudon, TN
6
2
3
4
Danny Ledford Warne, NC
Warne, NC
1
3
2
12
Drew Deaver McCaysville, GA
McCaysville, GA
-1
4
1
68
Kip Cochran Franklin, NC
Franklin, NC
-3
5
5
30
Daven Dilbeck McCaysville, GA
McCaysville, GA
-
6
6
41
Parris Simmons Baldwin, GA
Baldwin, GA
-
7
4
03
Dante Curtis Murphy, NC
Murphy, NC
-3
Finish
Start
#
Competitor
Hometown
Time
1
6
68
Kip Cochran Franklin, NC
Franklin, NC
2
9
32M
Jason Manley Loudon, TN
Loudon, TN
3
10
12
Drew Deaver McCaysville, GA
McCaysville, GA
4
17
4
Danny Ledford Warne, NC
Warne, NC
5
1
03
Dante Curtis Murphy, NC
Murphy, NC
6
14
30
Daven Dilbeck McCaysville, GA
McCaysville, GA
7
12
41
Parris Simmons Baldwin, GA
Baldwin, GA
8
15
22
Tucker Anderson Blairsville, GA
Blairsville, GA
9
8
42
Johnny Gulizia Murphy, NC
Murphy, NC
10
4
88
Ricky Smith Hiwassee, GA
Hiwassee, GA
11
5
757
Kelby Norwood Athens, TN
Athens, TN
12
7
72
Tyler Norwood Athens, TN
Athens, TN
13
11
17G
Tyler Garrett Canton, GA
Canton, GA
14
3
R12
Rodney Weeks Blue Ridge, GA
Blue Ridge, GA
15
13
32
Dustin Chastain Murphy, NC
Murphy, NC
16
2
G3
Michael Green Blue Ridge, GA
Blue Ridge, GA
17
16
56
Colton Berrong Murphy, NC
Murphy, NC
All transfer
602 Late Models
Finish
Start
#
Competitor
Hometown
+/-
1
1
50
Charles Devine Murphy, NC
Murphy, NC
-
2
2
117
Dylan Beaver Murphy, NC
Murphy, NC
-
3
3
56
Colton Berrong Murphy, NC
Murphy, NC
-
4
4
35
Dillon Daves Franklin, NC
Franklin, NC
-
5
8
44
Bobby Elkins Murphy, NC
Murphy, NC
3
6
5
100
Cooper Twiggs Murphy, NC
Murphy, NC
-1
7
10
73
CB McKinnon Murphy, NC
Murphy, NC
3
8
11
44D
Drew Deaver McCaysville, GA
McCaysville, GA
3
9
9
17
Brad Thomas Morganton, GA
Morganton, GA
-
10
12
H7
Hunter Jenkins Sweetwater, TN
Sweetwater, TN
2
11
13
25H
Hunter Atkinson Flowery Branch, GA
Flowery Branch, GA
2
12
16
92
Roger Autry Cleveland, GA
Cleveland, GA
4
13
14
88
Bryce Moody Hayesville, NC
Hayesville, NC
1
14
15
21P
Mark Ledford Hiwassee, GA
Hiwassee, GA
1
DNS
7
4
Jacob Parris Epworth, GA
Epworth, GA
-
DNS
6
34G
Greg Sudderth Brasstown, NC
Brasstown, NC
-
Finish
Start
#
Competitor
Hometown
+/-
1
3
116
Jonathan Cope Andrews, NC
Andrews, NC
2
2
2
27D
Dylan Bartlett Flowery Branch, GA
Flowery Branch, GA
-
3
4
30W
Josh Wooten Andrews, NC
Andrews, NC
1
4
5
28
Roy Hardman Hayesville, NC
Hayesville, NC
1
5
6
34
BJ Gilbert Blairsville, GA
Blairsville, GA
1
DNS
1
43
Tim Ford Elijay, GA
Elijay, GA
-
DNS
7
24
Seth Wimpey Blue Ridge, GA
Blue Ridge, GA
-
Finish
Start
#
Competitor
Hometown
Time
1
5
50
Charles Devine Murphy, NC
Murphy, NC
2
18
117
Dylan Beaver Murphy, NC
Murphy, NC
3
22
56
Colton Berrong Murphy, NC
Murphy, NC
4
14
35
Dillon Daves Franklin, NC
Franklin, NC
5
20
100
Cooper Twiggs Murphy, NC
Murphy, NC
6
19
34G
Greg Sudderth Brasstown, NC
Brasstown, NC
7
1
4
Jacob Parris Epworth, GA
Epworth, GA
8
17
44
Bobby Elkins Murphy, NC
Murphy, NC
9
12
17
Brad Thomas Morganton, GA
Morganton, GA
10
8
73
CB McKinnon Murphy, NC
Murphy, NC
11
13
44D
Drew Deaver McCaysville, GA
McCaysville, GA
12
23
H7
Hunter Jenkins Sweetwater, TN
Sweetwater, TN
13
4
25H
Hunter Atkinson Flowery Branch, GA
Flowery Branch, GA
14
10
88
Bryce Moody Hayesville, NC
Hayesville, NC
15
16
21P
Mark Ledford Hiwassee, GA
Hiwassee, GA
16
2
92
Roger Autry Cleveland, GA
Cleveland, GA
Top 16 transfer
17
3
43
Tim Ford Elijay, GA
Elijay, GA
18
15
27D
Dylan Bartlett Flowery Branch, GA
Flowery Branch, GA
19
21
116
Jonathan Cope Andrews, NC
Andrews, NC
20
6
30W
Josh Wooten Andrews, NC
Andrews, NC
21
7
28
Roy Hardman Hayesville, NC
Hayesville, NC
22
11
34
BJ Gilbert Blairsville, GA
Blairsville, GA
23
9
24
Seth Wimpey Blue Ridge, GA
Blue Ridge, GA
Pony
Finish
Start
#
Competitor
Hometown
+/-
1
3
G3
Dakota Green Blue Ridge, GA
Blue Ridge, GA
2
2
2
4
Colby McCulloch Hayesville, NC
Hayesville, NC
-
3
4
7
Marlon Burtz Talkin Rock, GA
Talkin Rock, GA
1
4
5
G10
Christopher Green Blue Ridge, GA
Blue Ridge, GA
1
DNS
1
10
Tain Ross Mineral Bluff, GA
Mineral Bluff, GA
-
Finish
Start
#
Competitor
Hometown
Time
1
4
10
Tain Ross Mineral Bluff, GA
Mineral Bluff, GA
2
5
4
Colby McCulloch Hayesville, NC
Hayesville, NC
3
1
G3
Dakota Green Blue Ridge, GA
Blue Ridge, GA
4
2
7
Marlon Burtz Talkin Rock, GA
Talkin Rock, GA
5
3
G10
Christopher Green Blue Ridge, GA
Blue Ridge, GA
All transfer
Front Wheel Drive
Finish
Start
#
Competitor
Hometown
+/-
1
2
22
David Shook Cartersville, GA
Cartersville, GA
1
2
4
28
Jason Coates Miurphy, NC
Miurphy, NC
2
3
5
J3
Josh Deese Murphy, NC
Murphy, NC
2
4
1
68
Neal Drummond Taylorsville, GA
Taylorsville, GA
-3
5
8
51
Doug McClain Kennesaw, GA
Kennesaw, GA
3
6
7
44
Billy Goswick Ellijay, GA
Ellijay, GA
1
7
6
21H
Paul Heitsenrether Dallas, GA
Dallas, GA
-1
DNS
3
7M
Mike Stork Cartersville, GA
Cartersville, GA
-
Finish
Start
#
Competitor
Hometown
Time
1
5
68
Neal Drummond Taylorsville, GA
Taylorsville, GA
2
6
22
David Shook Cartersville, GA
Cartersville, GA
3
3
7M
Mike Stork Cartersville, GA
Cartersville, GA
4
2
28
Jason Coates Miurphy, NC
Miurphy, NC
5
4
J3
Josh Deese Murphy, NC
Murphy, NC
6
8
21H
Paul Heitsenrether Dallas, GA
Dallas, GA
7
7
44
Billy Goswick Ellijay, GA
Ellijay, GA
8
1
51
Doug McClain Kennesaw, GA
Kennesaw, GA
All transfer
Finish
Start
#
Competitor
Hometown
Time
1
5
68
Neal Drummond Taylorsville, GA
Taylorsville, GA
2
6
22
David Shook Cartersville, GA
Cartersville, GA
3
3
7M
Mike Stork Cartersville, GA
Cartersville, GA
4
2
28
Jason Coates Miurphy, NC
Miurphy, NC
5
4
J3
Josh Deese Murphy, NC
Murphy, NC
6
8
21H
Paul Heitsenrether Dallas, GA
Dallas, GA
7
7
44
Billy Goswick Ellijay, GA
Ellijay, GA
8
1
51
Doug McClain Kennesaw, GA
Kennesaw, GA
Strictly Stock
Finish
Start
#
Competitor
Hometown
+/-
1
2
4
Wendall Beaver Blue Ridge, GA
Blue Ridge, GA
1
2
1
10
D.J. Ingram Blairsville, GA
Blairsville, GA
-1
DNS
3
7
Jesse Ingram Blue Ridge, GA
Blue Ridge, GA
-
Finish
Start
#
Competitor
Hometown
Time
1
1
10
D.J. Ingram Blairsville, GA
Blairsville, GA
2
3
4
Wendall Beaver Blue Ridge, GA
Blue Ridge, GA
3
2
7
Jesse Ingram Blue Ridge, GA
Blue Ridge, GA
All transfer
Finish
Start
#
Competitor
Hometown
Time
1
1
10
D.J. Ingram Blairsville, GA
Blairsville, GA
2
3
4
Wendall Beaver Blue Ridge, GA
Blue Ridge, GA
DNS
2
7
Jesse Ingram Blue Ridge, GA
Blue Ridge, GA