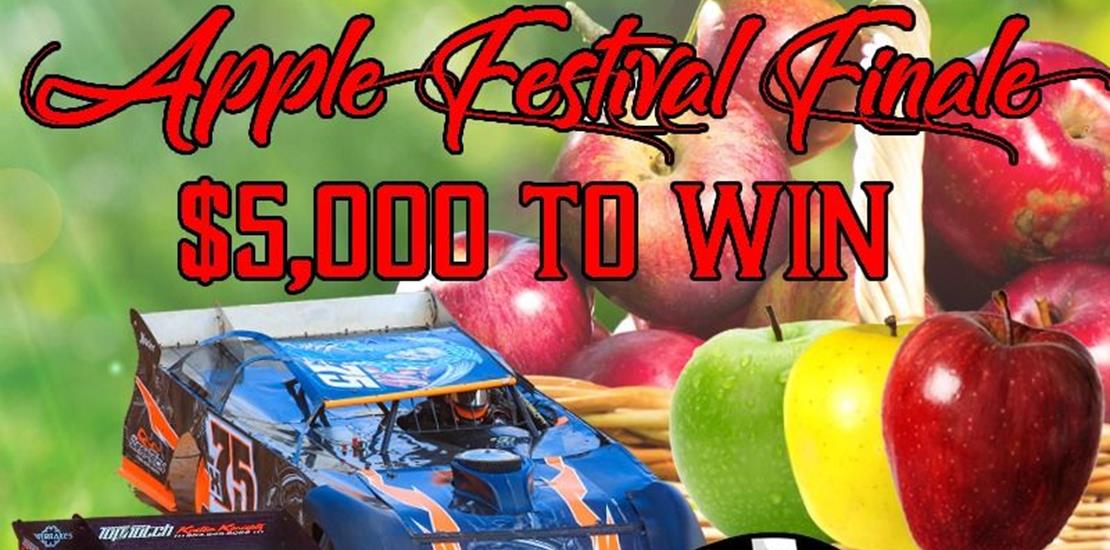 10/14/2023 -
Saturday October 21st, Sugar Creek Raceway will host the Southern All Star Super Late Model Series for our season finale. This will be The Creek's fir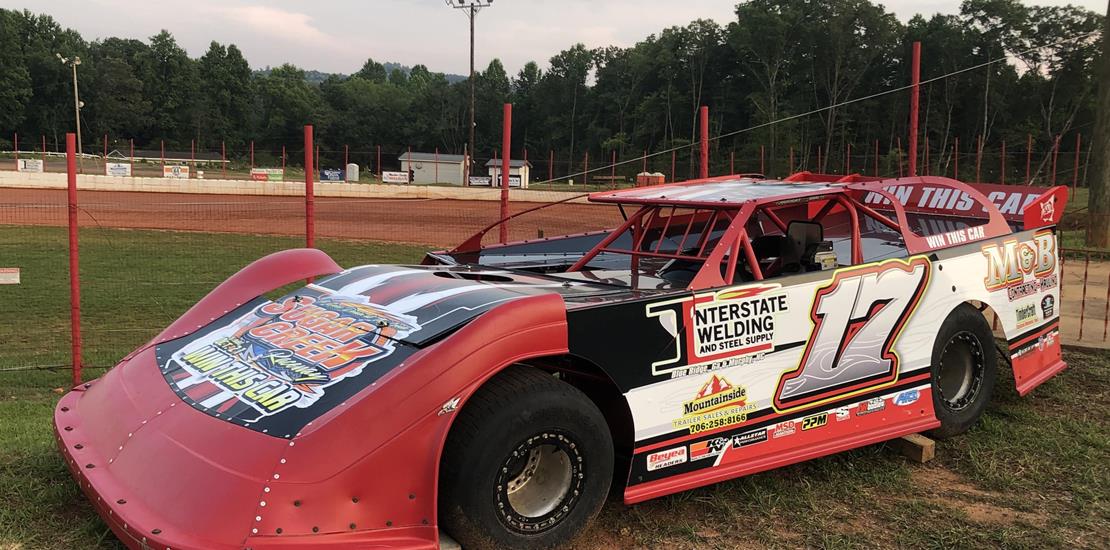 6/11/2023 -
You can win a 2021 Mastersbuilt Late Model Roller for only $50.00! Tickets are only $50.00 each or 3 for $100.00! This could be a once in a lifetime c
-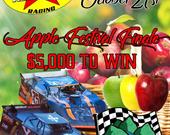 10/14/2023
Saturday October 21st, Sugar Creek Raceway will host the Southern All Star Super Late Model Series for our season finale. This will be The Creek's first sanctioned Super Late Model event this year. The $5000.00 to win event will also award a lucky winner a 2021 MastersBilt...
more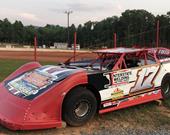 6/11/2023
You can win a 2021 Mastersbuilt Late Model Roller for only $50.00! Tickets are only $50.00 each or 3 for $100.00! This could be a once in a lifetime chance for you to own a late model racecar! Tickets on sale at Sugar Creek Raceway on race days or call 321-863-2479. Online...
more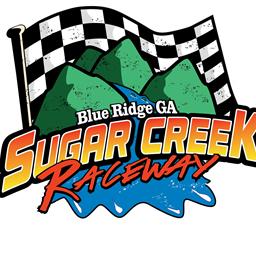 9/3/2023 - Sugar Creek Raceway
Blue Ridge, GA
United Crate Racing Alliance 604 Crate Late Models $3000.00 To Win
Interstate Welding 602 Crate Late Models, Street Stocks, Open Wheel Modifieds, Front Wheel Drives, Pony, Strictly Stock.
Street Stocks

5 entries

Open Wheel Modifieds

5 entries

602 Late Models

17 entries

Pony

6 entries

Front Wheel Drive

6 entries

Strictly Stock

3 entries

604 Late Models

19 entries
Full Event Information on MyRacePass
Street Stocks
Finish
Start
#
Competitor
Hometown
+/-
1
2
J69
Jim Weller Murphy, NC
Murphy, NC
1
2
5
14
Logan Exum Murphy, NC
Murphy, NC
3
3
1
11
Sam Ellison Dallas, GA
Dallas, GA
-2
4
3
93
Arthur Ramsey Murphy, NC
Murphy, NC
-1
5
4
8
Brandon Francis Ringgold, GA
Ringgold, GA
-1
Finish
Start
#
Competitor
Hometown
Time
1
4
11
Sam Ellison Dallas, GA
Dallas, GA
2
3
J69
Jim Weller Murphy, NC
Murphy, NC
3
5
93
Arthur Ramsey Murphy, NC
Murphy, NC
4
2
8
Brandon Francis Ringgold, GA
Ringgold, GA
DNS
1
14
Logan Exum Murphy, NC
Murphy, NC
All transfer
Open Wheel Modifieds
Finish
Start
#
Competitor
Hometown
+/-
1
3
55M
Kyle May Pisgah, AL
Pisgah, AL
2
2
1
22
Matt Sandefur Mineral Bluff, GA
Mineral Bluff, GA
-1
3
2
55
Bradley Sosebee Blue Ridge, GA
Blue Ridge, GA
-1
4
5
81
welsy brown Cartersville, GA
Cartersville, GA
1
5
4
39
Joseph Gill Kennessaw, GA
Kennessaw, GA
-1
Finish
Start
#
Competitor
Hometown
Time
1
2
22
Matt Sandefur Mineral Bluff, GA
Mineral Bluff, GA
2
3
55
Bradley Sosebee Blue Ridge, GA
Blue Ridge, GA
3
4
55M
Kyle May Pisgah, AL
Pisgah, AL
4
1
39
Joseph Gill Kennessaw, GA
Kennessaw, GA
All transfer
602 Late Models
Finish
Start
#
Competitor
Hometown
+/-
1
4
44
Bobby Elkins Murphy, NC
Murphy, NC
3
2
5
0
Seth Wimpey Blue Ridge, GA
Blue Ridge, GA
3
3
6
100
Cooper Twiggs Murphy, NC
Murphy, NC
3
4
10
52
Hayden Swaney Chatsworth, GA
Chatsworth, GA
6
5
16
35
Dillon Daves Franklin, NC
Franklin, NC
11
6
7
7
Keith Rollins Murphy, NC
Murphy, NC
1
7
13
45
Rodney Weeks Blue Ridge, GA
Blue Ridge, GA
6
8
9
88
Bryce Moody Hayesville, NC
Hayesville, NC
1
9
14
G3
Michael Green Blue Ridge, GA
Blue Ridge, GA
5
10
12
92
Roger Autry Cleveland, GA
Cleveland, GA
2
11
2
73
CB McKinnon Murphy, NC
Murphy, NC
-9
12
3
56
Colton Berrong Murphy, NC
Murphy, NC
-9
13
8
P17
Stevie Brannon Canton, GA
Canton, GA
-5
14
15
34
BJ Gilbert Blairsville, GA
Blairsville, GA
1
15
1
17
Brad Thomas Morganton, GA
Morganton, GA
-14
16
11
200
Johnny Anderson Murphy, NC
Murphy, NC
-5
Finish
Start
#
Competitor
Hometown
Time
1
3
17
Brad Thomas Morganton, GA
Morganton, GA
2
6
73
CB McKinnon Murphy, NC
Murphy, NC
3
8
56
Colton Berrong Murphy, NC
Murphy, NC
4
13
44
Bobby Elkins Murphy, NC
Murphy, NC
5
14
0
Seth Wimpey Blue Ridge, GA
Blue Ridge, GA
6
5
100
Cooper Twiggs Murphy, NC
Murphy, NC
7
9
7
Keith Rollins Murphy, NC
Murphy, NC
8
15
P17
Stevie Brannon Canton, GA
Canton, GA
9
1
88
Bryce Moody Hayesville, NC
Hayesville, NC
10
10
52
Hayden Swaney Chatsworth, GA
Chatsworth, GA
11
16
200
Johnny Anderson Murphy, NC
Murphy, NC
12
11
92
Roger Autry Cleveland, GA
Cleveland, GA
13
7
45
Rodney Weeks Blue Ridge, GA
Blue Ridge, GA
14
4
G3
Michael Green Blue Ridge, GA
Blue Ridge, GA
15
12
34
BJ Gilbert Blairsville, GA
Blairsville, GA
16
2
35
Dillon Daves Franklin, NC
Franklin, NC
All transfer
Finish
Start
#
Competitor
Hometown
Time
1
3
17
Brad Thomas Morganton, GA
Morganton, GA
2
6
73
CB McKinnon Murphy, NC
Murphy, NC
3
8
56
Colton Berrong Murphy, NC
Murphy, NC
4
13
44
Bobby Elkins Murphy, NC
Murphy, NC
5
14
0
Seth Wimpey Blue Ridge, GA
Blue Ridge, GA
6
5
100
Cooper Twiggs Murphy, NC
Murphy, NC
7
9
7
Keith Rollins Murphy, NC
Murphy, NC
8
15
P17
Stevie Brannon Canton, GA
Canton, GA
9
1
88
Bryce Moody Hayesville, NC
Hayesville, NC
10
10
52
Hayden Swaney Chatsworth, GA
Chatsworth, GA
11
16
200
Johnny Anderson Murphy, NC
Murphy, NC
12
11
92
Roger Autry Cleveland, GA
Cleveland, GA
13
7
45
Rodney Weeks Blue Ridge, GA
Blue Ridge, GA
14
4
G3
Michael Green Blue Ridge, GA
Blue Ridge, GA
15
12
34
BJ Gilbert Blairsville, GA
Blairsville, GA
16
2
35
Dillon Daves Franklin, NC
Franklin, NC
Pony
Finish
Start
#
Competitor
Hometown
+/-
1
1
01
Cornbread Chinn Maysville, GA
Maysville, GA
-
2
2
G3
Dakota Green Blue Ridge, GA
Blue Ridge, GA
-
3
3
2
Colby McCulloch Hayesville, NC
Hayesville, NC
-
4
4
4
Danny Burnette Chattanooga, TN
Chattanooga, TN
-
5
5
18
Jeremy Cross Dalton, GA
Dalton, GA
-
6
6
20P
Mason Palmer Cohutta, GA
Cohutta, GA
-
Finish
Start
#
Competitor
Hometown
Time
1
1
01
Cornbread Chinn Maysville, GA
Maysville, GA
2
6
G3
Dakota Green Blue Ridge, GA
Blue Ridge, GA
3
3
2
Colby McCulloch Hayesville, NC
Hayesville, NC
4
2
4
Danny Burnette Chattanooga, TN
Chattanooga, TN
5
5
18
Jeremy Cross Dalton, GA
Dalton, GA
6
4
20P
Mason Palmer Cohutta, GA
Cohutta, GA
All transfer
Front Wheel Drive
Finish
Start
#
Competitor
Hometown
+/-
1
2
K3
James Klaucke Murphy, NC
Murphy, NC
1
2
3
F3
John Fulford Andrews, NC
Andrews, NC
1
3
1
22
David Shook Cartersville, GA
Cartersville, GA
-2
4
5
721
Jim Exom Murphy, NC
Murphy, NC
1
5
4
K88
Alex Cope Chickamauga, GA
Chickamauga, GA
-1
6
6
89
Josh Cook Sugar Valley, GA
Sugar Valley, GA
-
Finish
Start
#
Competitor
Hometown
Time
1
6
22
David Shook Cartersville, GA
Cartersville, GA
2
5
K3
James Klaucke Murphy, NC
Murphy, NC
3
3
F3
John Fulford Andrews, NC
Andrews, NC
4
1
K88
Alex Cope Chickamauga, GA
Chickamauga, GA
5
2
721
Jim Exom Murphy, NC
Murphy, NC
6
4
89
Josh Cook Sugar Valley, GA
Sugar Valley, GA
All transfer
Strictly Stock
Finish
Start
#
Competitor
Hometown
+/-
1
1
10
D.J. Ingram Blairsville, GA
Blairsville, GA
-
2
2
7
Jesse Ingram Blue Ridge, GA
Blue Ridge, GA
-
3
3
4
Wendall Beaver Blue Ridge, GA
Blue Ridge, GA
-
Finish
Start
#
Competitor
Hometown
Time
1
1
10
D.J. Ingram Blairsville, GA
Blairsville, GA
2
3
7
Jesse Ingram Blue Ridge, GA
Blue Ridge, GA
3
2
4
Wendall Beaver Blue Ridge, GA
Blue Ridge, GA
All transfer
604 Late Models
Finish
Start
#
Competitor
Hometown
+/-
1
2
22A
Tucker Anderson Blairsville, GA
Blairsville, GA
1
2
4
15
Matt Shannon Delano, TN
Delano, TN
2
3
3
J1
Kyle Courtney Knoxville, TN
Knoxville, TN
-
4
6
1W
Junior Whitner Chattanooga, TN
Chattanooga, TN
2
5
8
27
Kasey Hall Geraldine, AL
Geraldine, AL
3
6
13
14
Cade Brookshire Cohutta, GA
Cohutta, GA
7
7
10
7
Dylan Perry Ringgold, GA
Ringgold, GA
3
8
9
157
Kenny Kizzar Sale Creek, TN
Sale Creek, TN
1
9
14
62
Tyler Hughes Crossville, AL
Crossville, AL
5
10
16
22
Jessie Hughes Crossville, AL
Crossville, AL
6
11
19
53
Joe Picklesimer Resaca, GA
Resaca, GA
8
12
12
20
Devin Stuart Blue Ridge, GA
Blue Ridge, GA
-
13
1
85
Jacob Anderson Sherman, TX
Sherman, TX
-12
14
11
63
Michael Luna Sparta, TN
Sparta, TN
-3
15
7
44
Jason Welshan Maryville, TN
Maryville, TN
-8
16
5
12
Seth Wimpey Blue Ridge, GA
Blue Ridge, GA
-11
17
18
75M
Michael Mims Rome, GA
Rome, GA
1
DNS
15
71
Cody Haskins Marietta, GA
Marietta, GA
-
DNS
17
5
Ronnie Johnson
-
Finish
Start
#
Competitor
Hometown
+/-
1
1
85
Jacob Anderson Sherman, TX
Sherman, TX
-
2
2
15
Matt Shannon Delano, TN
Delano, TN
-
3
4
44
Jason Welshan Maryville, TN
Maryville, TN
1
4
3
7
Dylan Perry Ringgold, GA
Ringgold, GA
-1
5
6
14
Cade Brookshire Cohutta, GA
Cohutta, GA
1
6
7
22
Jessie Hughes Crossville, AL
Crossville, AL
1
7
5
53
Joe Picklesimer Resaca, GA
Resaca, GA
-2
All transfer
Finish
Start
#
Competitor
Hometown
+/-
1
1
22A
Tucker Anderson Blairsville, GA
Blairsville, GA
-
2
2
12
Seth Wimpey Blue Ridge, GA
Blue Ridge, GA
-
3
3
27
Kasey Hall Geraldine, AL
Geraldine, AL
-
4
4
63
Michael Luna Sparta, TN
Sparta, TN
-
5
6
62
Tyler Hughes Crossville, AL
Crossville, AL
1
DNS
5
5
Ronnie Johnson
-
All transfer
Finish
Start
#
Competitor
Hometown
+/-
1
1
J1
Kyle Courtney Knoxville, TN
Knoxville, TN
-
2
2
1W
Junior Whitner Chattanooga, TN
Chattanooga, TN
-
3
3
157
Kenny Kizzar Sale Creek, TN
Sale Creek, TN
-
4
4
20
Devin Stuart Blue Ridge, GA
Blue Ridge, GA
-
5
5
71
Cody Haskins Marietta, GA
Marietta, GA
-
6
6
75M
Michael Mims Rome, GA
Rome, GA
-
All transfer
Finish
Start
#
Competitor
Hometown
Time
1
13
85
Jacob Anderson Sherman, TX
Sherman, TX
2
9
22A
Tucker Anderson Blairsville, GA
Blairsville, GA
3
10
J1
Kyle Courtney Knoxville, TN
Knoxville, TN
4
7
15
Matt Shannon Delano, TN
Delano, TN
5
19
12
Seth Wimpey Blue Ridge, GA
Blue Ridge, GA
6
1
1W
Junior Whitner Chattanooga, TN
Chattanooga, TN
7
14
7
Dylan Perry Ringgold, GA
Ringgold, GA
8
2
27
Kasey Hall Geraldine, AL
Geraldine, AL
9
12
157
Kenny Kizzar Sale Creek, TN
Sale Creek, TN
10
16
44
Jason Welshan Maryville, TN
Maryville, TN
11
8
63
Michael Luna Sparta, TN
Sparta, TN
12
15
20
Devin Stuart Blue Ridge, GA
Blue Ridge, GA
13
6
53
Joe Picklesimer Resaca, GA
Resaca, GA
14
18
5
Ronnie Johnson
15
4
71
Cody Haskins Marietta, GA
Marietta, GA
16
5
14
Cade Brookshire Cohutta, GA
Cohutta, GA
17
17
62
Tyler Hughes Crossville, AL
Crossville, AL
18
11
75M
Michael Mims Rome, GA
Rome, GA
19
3
22
Jessie Hughes Crossville, AL
Crossville, AL